PUUD Sexy Candy - 600 Puffs CBD 500 reusable
The PUUD Sexy Candy starter kit includes:
1 rechargeable puff-type battery
1 puff-type CBD cartridge Sexy Candy flavor (Sweet Treat)
1 charger
RECHARGEABLE PUFF
The Puud kit is a new, more economical way to vape that has less impact on the planet.
Discarding batteries after one use is over! The battery is rechargeable thanks to a usb-c cable, and the e-liquid cartridges are replaceable.

2ml cartridges which equates to about 600 puffs
CBD 500 - 50mg/ml
Description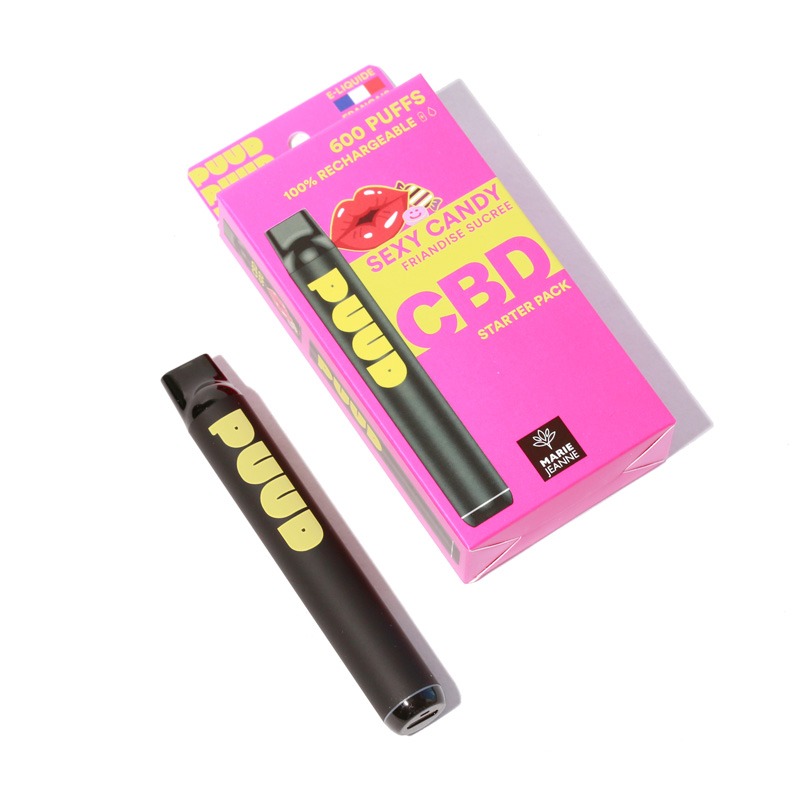 Features of the PUUD Sexy Candy, New Rechargeable Puff CBD
Explore a new vaping dimension with our hybrid system, beautifully blending Puff and POD, pre-charged and rechargeable, featuring the flavor of a real candy!
Our CBD Sexy Candy range is a whirlwind of flavors: sweet and tangy that will make you smile, even on the grayest days. With each puff, it's a naughty rendezvous with indulgence! Each cartridge contains 2 ml of CBD e-liquid, formulated with entirely plant-based PG/VG.
Number of puffs: 600 puffs of pure bliss per cartridge.
Battery: 400mAh for increased longevity.
E-liquid volume: 2 ml of sweet flavor.
Resistance: Foam + Mesh Coil technology for optimal PUFFS.
Airflow: designed to maximize your vaping experience.
Each set includes: 1 sturdy battery, 1 2 ml cartridge, and 1 charging cable.
How to use the rechargeable PUUD Puff?
Using the PUUD, equipped with the Sexy Candy refill, is as easy as pie. To start, simply insert the Sexy Candy cartridge into the sleeve, and it will magnetically attach itself to the battery, without any additional intervention. Forget about adjustment and power buttons - everything is already set up for you.
As soon as the cartridge is in place, all you have to do is vape. If the battery starts blinking, it's simple: connect the USB-C cable of your rechargeable CBD puff to the battery end, then plug the other end into a computer or an adapter (not included).
The PUUD cartridge, containing 2 ml of CBD e-liquid, gives you about 600 puffs (this estimate is based on a new product and one puff per second, but may vary based on your vaping habits). When you have used up the e-liquid, simply replace the cartridge by removing it from the sleeve and inserting a new one. There you go, you are ready to start again!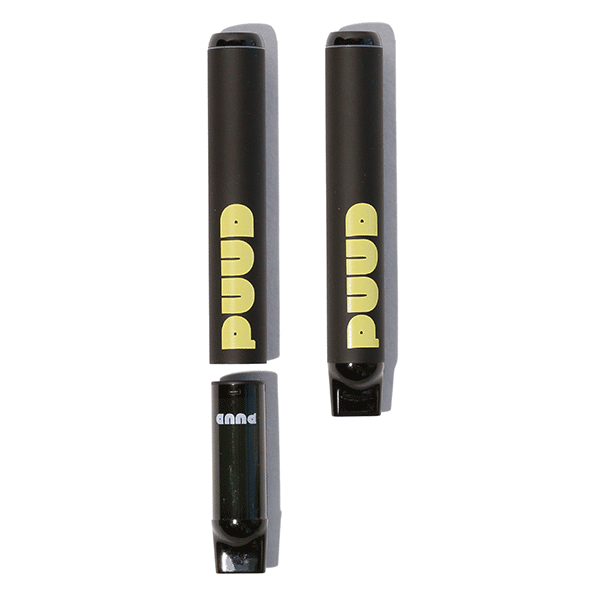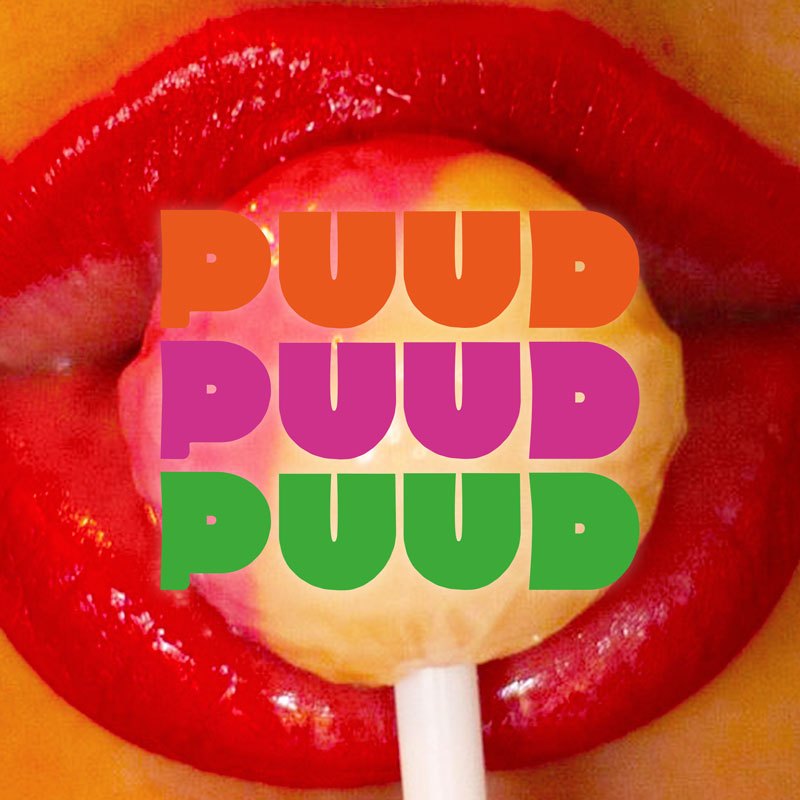 What tastes like the Sexy Candy flavor, CBD e-liquid?
Sexy Candy is Marie Jeanne's sweet gem. Imagine a candy slightly tangy and as sweet as needed, gentle on the taste and strong in flavor: here is the Sexy Candy. Can be consumed at any time of the day! Also explore the flavors hemp taste rechargeable CBD puff and mango blueberry taste rechargeable CBD puff in Marie Jeanne's range.
What CBD rate does the PUUD Puff contain?
The Puud CBD Eliquid cartridges are enriched with 2ml of eliquid, bringing the CBD concentration to 50mg/ml, a total of 100mg per cartridge. In the e-liquid domain, such a concentration is often referred to as rate 500 or 5%.
The objective of this specific CBD rate in Puud cartridges is to provide a pleasant and enjoyable daily vaping experience. Higher concentrations in a Puff system may create throat irritation and reduce the inhalation pleasure, a phenomenon known as a throat hit. If this hit is too powerful, the CBD experience is not optimal.
We have chosen a balanced concentration, allowing for a pleasurable daily vape. The inhaled amount is adjustable by modulating the number of daily puffs, to personalize the CBD intake. For those desiring a more robust concentration, our range also includes 1000mg CBD puff options. These products offer a more pronounced vaping experience, while preserving the distinctive pleasure and quality of our CBD puffs.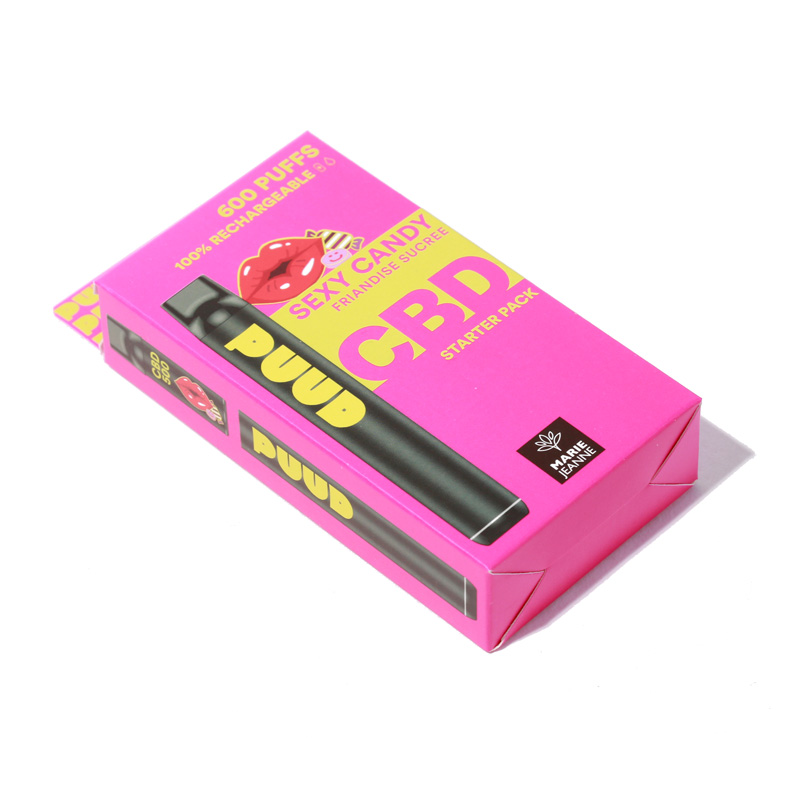 verified reviews(8)
B. William published the 27/11/2023 following an order made on 20/11/2023
Effet relaxant et agréable, un incontournable pour moi désormais
D. Madeleine published the 19/11/2023 following an order made on 12/11/2023
je ne peux plus me passer de ce produit,
C. Olivier published the 09/11/2023 following an order made on 02/11/2023
Satisfait de l'efficacité du produit, conforme à mes attentes
R. Isabelle published the 26/10/2023 following an order made on 19/10/2023
Ravi de mon achat, cela en valait vraiment la peine
Xavier D. published the 24/10/2023 following an order made on 19/10/2023
Un délice sucré et très facile d'utilisation, le puud sexy candy est mon choix quand je me détends avec le CBD
T. Vincent published the 14/10/2023 following an order made on 03/10/2023
Le service client est exceptionnel, et la qualité du produit est top
Sébastien D. published the 13/10/2023 following an order made on 03/10/2023
Très bien
L. Maurice published the 02/10/2023 following an order made on 26/09/2023
Satisfait, économique et écolo