CBD Puff
Vape without constraints thanks to Marie Jeanne® CBD Puffs. Enjoy the best flavors on the market with these "ready to vape" CBD pods that have a capacity of 600 puffs. The disposable 1000 CBD Puffs are from the BARREL range, while the rechargeable 500 CBD Puffs are from the PUUD range.
Find all the PUUD, the reusable CBD Puff with 500mg, more economical and ecological with its interchangeable cartridges in different flavors.
Discover the Barrel range from Marie Jeanne®, our powerful and tasty disposable 1000 cbd puffs containing up to 600 puffs.
What is a CBD Puff?
A "CBD Puff" is a small disposable electronic device pre-filled with e-liquid containing CBD. Designed for short-term use, this device is meant to be discarded once the e-liquid inside is depleted. Identical in appearance and operation to "Puff Bars" or "Puff Pens" (which contain nicotine), these disposable devices are mostly activated by inhalation. This means that when a user draws on the device, it automatically turns on to produce a vapor, which is then inhaled.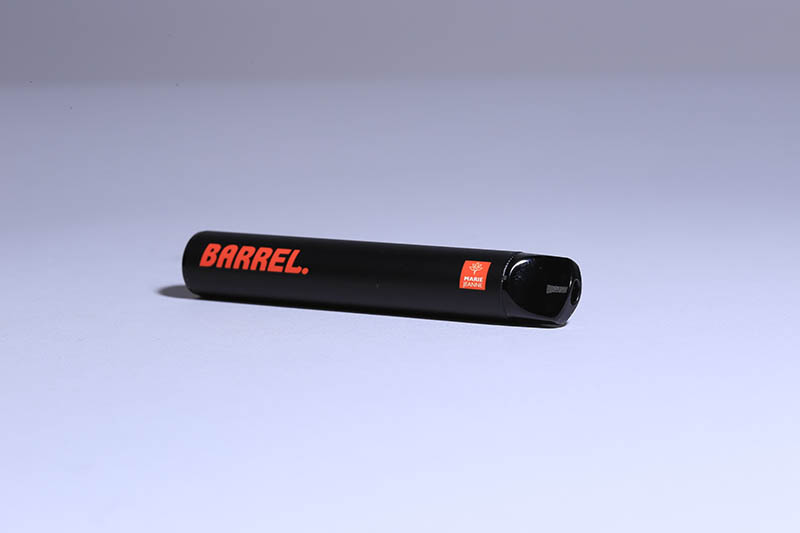 The main advantages of a disposable CBD puff are its convenience and variety of flavors. Additionally, they are affordable with prices suitable for all budgets, making the CBD experience accessible to everyone. Their compact size, ease of use, and discretion make them attractive for those who wish to consume CBD anytime.
Given the success of these devices and for ecological and economic concerns, Marie Jeanne® now offers refillable Puffs through the PUUD range, for a sustainable and eco-responsible vaping experience.
How to choose a CBD puff?
Choosing the right CBD puff may seem difficult with all the options available on the market. Here is a selection of tips to help you make the right choice based on your needs and preferences.
Difference between CBD Vape Pen & Puff?
A "real puff" is a compact and disposable device, pre-filled with CBD e-liquid, designed to be used and then discarded once the liquid is depleted. In contrast, a CBD vape pen is reusable as it usually has a detachable and unsealed e-liquid cartridge, allowing it to be refilled with one's own liquid (thus requiring the separate purchase of CBD e-liquid). The puff is ideal for those looking for a hassle-free experience, while the Vape Pen is suitable for those who prefer a more durable and customizable option.
There is now the hybrid option of the refillable PUUD puff, on which the e-liquid cartridge is pre-filled, sealed but detachable! You can thus change flavors as you wish by simply replacing the cartridge with the flavor of your choice, without the hassle of filling the cartridge yourself!
What are the advantages of the Puff format?
The Puff format offers unparalleled convenience. It is ready to use, requiring no refilling or maintenance, and its compact and discreet design allows use in any situation. Moreover, the variety of available flavors and the absence of buttons or settings make the vaping experience simple and enjoyable.
What are the advantages of the Vape Pen format?
The Vape Pen format, although requiring more maintenance, offers greater customization of the vaping experience. It allows choosing and changing flavors and CBD concentrations, and its rechargeable and durable nature makes it an ecological and economical option in the long run.
What is the lifespan of a CBD Puff?
The lifespan of a CBD Puff depends on the frequency of use, but on average, it can offer up to 600 puffs. It is essential to choose a puff with a capacity suited to your needs to avoid any inconvenience. For comparison, it is customary to say that a pack of 20 cigarettes corresponds to 250 puffs.
How much CBD does a puff contain?
The amount of CBD in a puff can vary according to brands and models. For example, at Marie Jeanne, we usually formulate our puffs to offer a high concentration of CBD of 1000mg/10ml, allowing optimal absorption with each puff. A puff can contain 200mg of CBD diluted in 2ml of liquid. But generally, it is formulated to offer a balanced concentration, allowing optimal absorption of CBD with each puff.
Can a Puff e-cigarette be recycled?
Yes, Marie Jeanne CBD Puffs® are recyclable. It is crucial to inquire about collection and recycling points available to dispose of these devices responsibly and ecologically.
Is there a reusable CBD puff?
Indeed, for those looking for a more sustainable option, Marie Jeanne offers a reusable CBD puff, the PUUD, which combines the advantages of the puff and the vape pen. With its sealed but detachable and replaceable cartridge, it is a practical, ecological, and economical option for all.
How to Use a Puff for Vaping?
Using a puff for vaping is very simple, just follow the steps below:
Unpack: Start by unpacking your CBD Puff. Remove any packaging or protection placed on the device during shipment.
Activation: CBD Puffs are usually activated by inhalation. So, all you have to do is draw on the mouthpiece to start vaping. There are no buttons to press or settings to adjust.
Vaping: Inhale gently and regularly through the mouthpiece. The puff will produce vapor that can be inhaled. It is recommended to take short and regular puffs to avoid overheating the device.
End of Life: Once you can no longer draw vapor from your puff, it usually means that the CBD eliquid is depleted, and it's time to dispose of the device responsibly.
Recycling: Remember to recycle your CBD Puff once it has reached the end of its life. Look for appropriate recycling collection points in your area (in sorting bins reserved for batteries and cells, often available in many of your supermarkets).
What is CBD?
CBD, or cannabidiol, is a natural component extracted from hemp, a variety of the cannabis plant. It is one of the cannabinoids, a group of substances that can influence the human nervous system by interacting with its receptors. CBD is legal and differs from THC, another cannabinoid, which has psychoactive properties and is illegal in many countries. To learn more about CBD, check out our detailed article what is CBD?
What are the differences between CBD and nicotine?
Nicotine is a stimulant found in the tobacco plant, while CBD is a non-psychoactive component of hemp. Nicotine is addictive and can cause negative side effects, while CBD is studied for its potential therapeutic benefits, including its anxiolytic, analgesic, and antispasmodic effects.
Why use CBD in an electronic cigarette?
CBD can be consumed in various ways, including by inhalation using products like puffs and vape pens (e-cigarettes), by ingestion as capsules, oils, or edibles, or by topical application to the skin. One of the most practiced methods of consumption is inhaling CBD through an e-cigarette, an effective consumption method as it allows better absorption by the body and quicker action on the endocannabinoid system. This offers a combustion-free alternative, reducing the risks associated with tobacco consumption while potentially allowing relaxation and reducing the consumption of cannabis (THC) and cigarettes.
Why choose a Marie Jeanne ® CBD puff?
Marie Jeanne, a French manufacturer of e-liquid and CBD puff, strives to offer you a unique experience, subtly enhancing the aspects that make us unique:
Innovation and creation: Our e-liquids and Puffs are the result of innovative creations, designed to satisfy the most demanding consumers looking for premium products.
Eco-responsible commitment: Our products are eco-responsible, sucralose-free, with vegetable PGVG, and are filled in France. The used CBD is of European origin, complying with the strictest standards.
Transparency and ethics: We value transparency and ethics, by providing safety data sheets and certificates of analysis, and by answering all your questions regarding the origin of our raw materials, the type of agriculture used, and the composition of our products.
Commitment to quality: All our e-liquids are made in France, in our French research laboratory, where mastering the extraction protocols of CBD is at the heart of our business.
By choosing Marie Jeanne, you benefit from products developed with passion and precision, for unparalleled reproduction and experience, while supporting a brand that values responsibility and passionate work.