PUUD Fruizy Mix - 600 Puffs CBD 500 Reusable
The PUUD Fruizy Mix starter kit contains:
1 Rechargeable puff battery
1 CBD puff type cartridge Fruizy Mix flavor (Mango Blueberry)
1 charger
RECHARGEABLE PUFF
The Puud kit is a new, more economical way to vape with less impact on the planet.
Throw away batteries after use, it's over! The battery is recharged using a usb-c cable and the e-liquid cartridges are replaceable.

2ml cartridges or approximately 600 puffs
CBD 500 - 50mg/ml
Description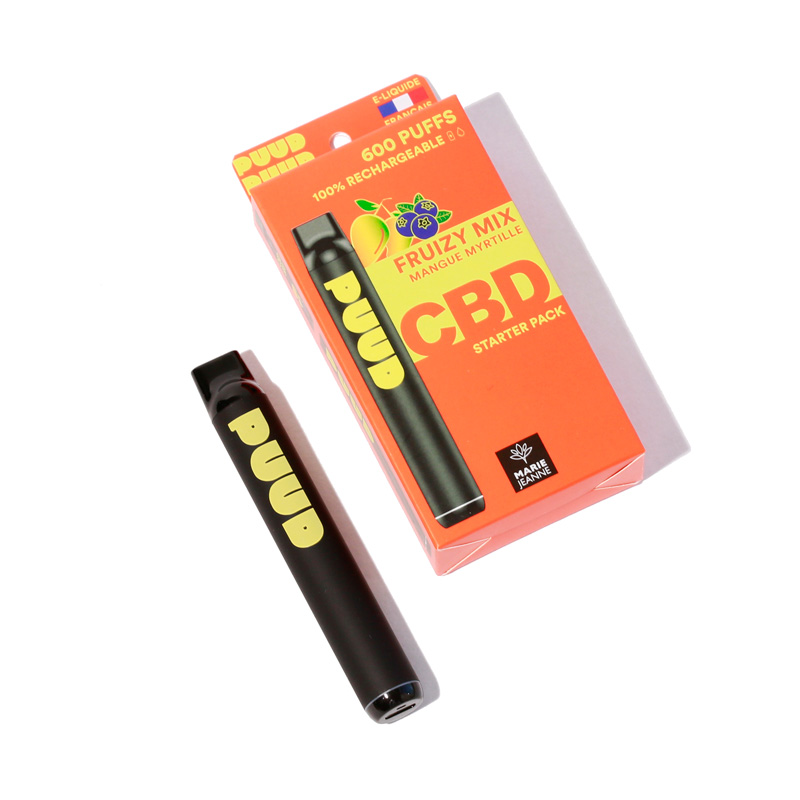 Features of the PUUD Fruizy Mix, New Rechargeable Puff CBD
Discover the perfect fusion between the Puff and the POD in our innovative system, already loaded and rechargeable. The PUUD Fruizy Mix stands out with its refreshing and fruity flavor, ideal for a fresh and tasty vaping experience.
The included CBD cartridge is pre-filled with premium quality PG/VG e-liquid, infused with the Fruizy Mix flavor. Each cartridge is meticulously filled with 2 ml of CBD e-liquid, composed of 100% vegetable PG/VG.
Number of puffs: about 600 per cartridge.
Battery: 400mAh for durable use.
E-liquid volume: 2 ml of fruity pleasure.
Resistance: Foam + Mesh Coil, specially designed for PUFFS.
Airflow: optimized for a better vaping experience.
Each kit includes: 1 battery, 1 2ml cartridge, and 1 charging cable.
How to use the rechargeable PUUD Puff?
The Puud with Fruizy Mix refill has been designed for the simplest possible use. Just insert the Fruizy Mix cartridge into the sleeve, and it will automatically magnetize to the battery. No adjustment or ignition button needs to be operated; everything is already set.

Once the cartridge is magnetized, just vape. When the battery flashes, it's straightforward: connect the usb-c cable of your rechargeable CBD puff to the end of the battery and plug the usb port into a computer or an adapter (not included).


The Puud cartridge, filled with 2ml of CBD eliquid, corresponds to about 600 puffs (estimate based on a newly manufactured product and one puff per second, may vary depending on usage habits). Once the liquid is finished, the cartridge must be replaced by removing it from the sleeve and inserting a new one.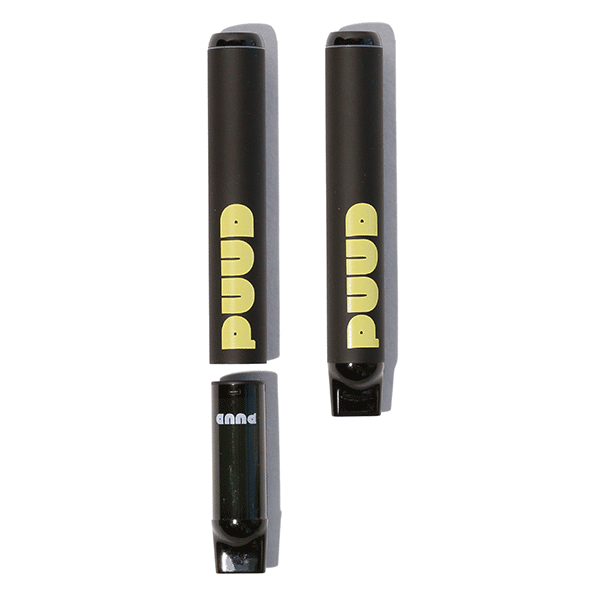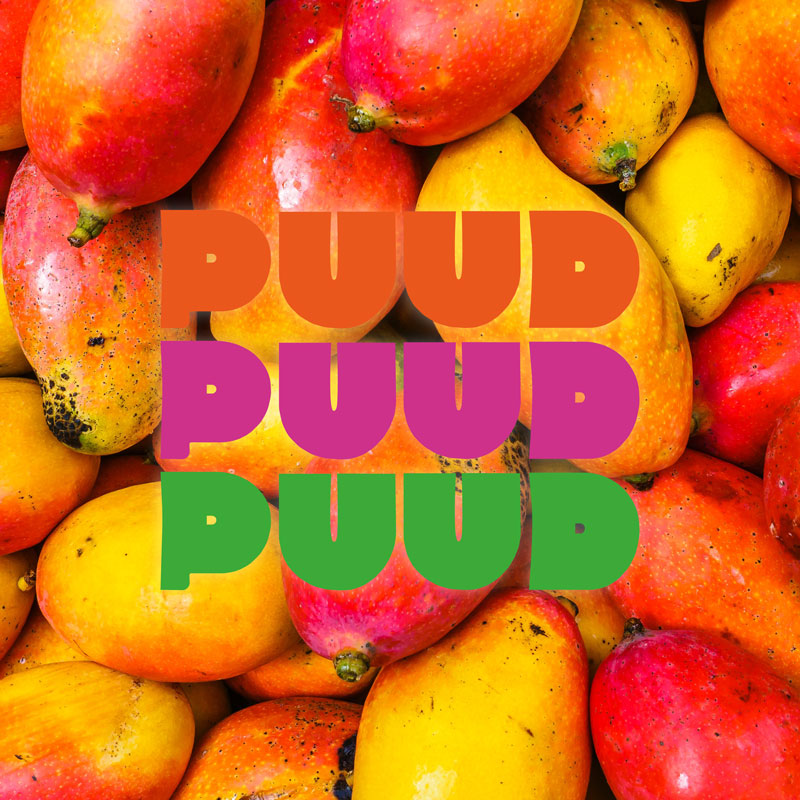 What flavors does the Fruizy Mix, CBD e-liquid have?
The Fruizy Mix is the latest discovery at Marie Jeanne. Slightly sweet as it should be, with freshly picked mango and a hint of blueberry to lift it all. A taste delight, this fruity flavor can be consumed at any time of the day. Explore also the flavors of candy-flavored rechargeable CBD puff and hemp-flavored rechargeable CBD puff in the Marie Jeanne range.
What CBD concentration does the PUUD Puff contain?
Each Puud CBD Eliquid cartridge contains 2ml of eliquid, equivalent to a concentration of 50mg/ml, or 100mg of CBD per cartridge. Such a concentration is often referred to as a rate of 500 or 5% in e-liquids.
Choosing this CBD concentration for Puud cartridges aims to offer a satisfying daily vapor experience. Higher rates in a Puff system can lead to an unpleasant and irritating sensation when inhaling, known as a throat HIT. If the hit is excessive, the overall experience with CBD is compromised.
By opting for a moderate rate, we guarantee a pleasant vaping experience daily. It is possible to adjust the CBD intake by adjusting the number of puffs per day. For those seeking a more powerful experience, we also offer 1000mg CBD puffs in our Barrel range.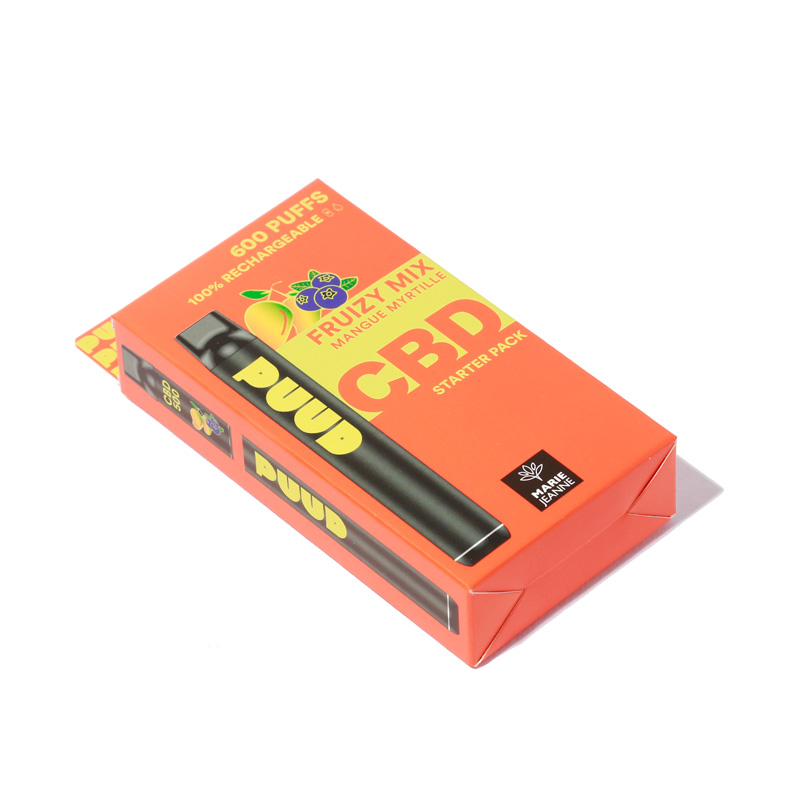 verified reviews(8)
G. Pierre-Georges published the 28/11/2023 following an order made on 20/11/2023
Une découverte impressionnante, je vais sûrement refaire une commande
C. Thibaut published the 21/11/2023 following an order made on 14/11/2023
Extrêmement satisfait, la puff CBD est efficace et très pratique.
Fred G. published the 18/11/2023 following an order made on 14/11/2023
Très bon avec un bon goût frais
Tony M. published the 12/11/2023 following an order made on 30/10/2023
Goût délicat et fruité
C. Constance published the 01/11/2023 following an order made on 28/10/2023
Très content de mon achat, le produit répond parfaitement à la description. Livraison très rapide.
Albert L. published the 24/10/2023 following an order made on 19/10/2023
C'est devenu mon choix quotidien pour vaper, la saveur mangue myrtille est un pur délice !
D. Madeleine-Véronique published the 21/10/2023 following an order made on 14/10/2023
Excellent rapport qualité-prix
G. Henri published the 08/10/2023 following an order made on 01/10/2023
Compacte et rechargeable, elle m'accompagne partout.