You must be 18 or over to acces this website
Sorry, you can not enter.
Vape Pen noïd.lab CBD + Supreme Mango Blue
The New Generation Vape Pen Pack
The noïd.lab Vape Pen Pack is a revolution that focuses on the essentials: a redesigned design and simplified use for an experience optimized vape. This pack contains: The Supreme Mango e-liquid (10ml),an aromatic flavor of Tropical Mango.

This pack contains:
a complete Pod (A noïd.lab battery + An empty cartridge to fill)

One Liquid 10ml
1 USB cable for charging
1 User manual (EN)
Description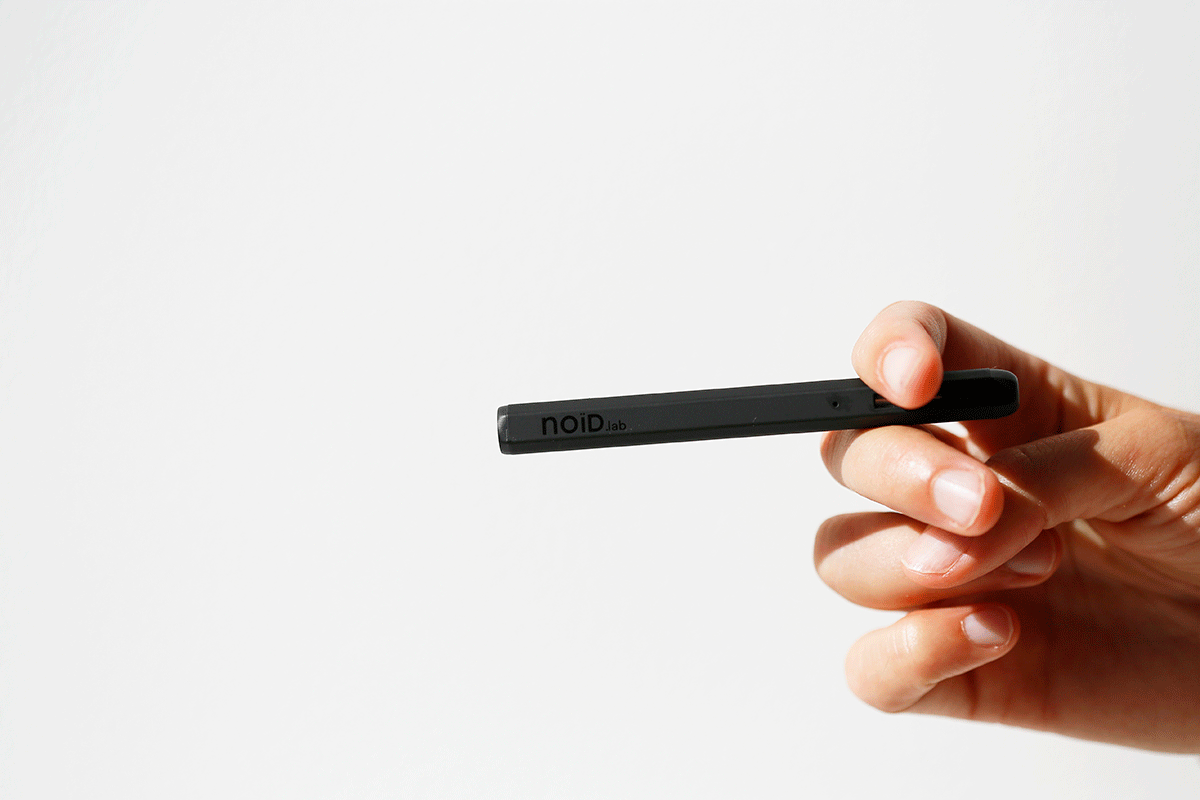 Noid.lab Vape Pen + Supreme Mango Pack.
The vape pen noïd.lab offers perfect ergonomics in hand, its design very close to a classic cigarette allows a quick grip. Its small size allows for easy transport.
The noïd.lab e-cigarette (or pod) offers a tight draw in indirect inhaling reminiscent of the sensation of a classic cigarette. The draw can be modulated by turning the cartridge in the sheath.
Getting started with a noïd.lab by Marie Jeanne CBD Vape Pen pod?
For beginners but for the most experts too! Small and discreet, the noïd.lab by Marie Jeanne is an ideal pod for beginners in the vape because it is very easy to use. This pod without adjustment allows you to vape directly after putting the e-liquid inside the cartridge, no button or adjustment necessary.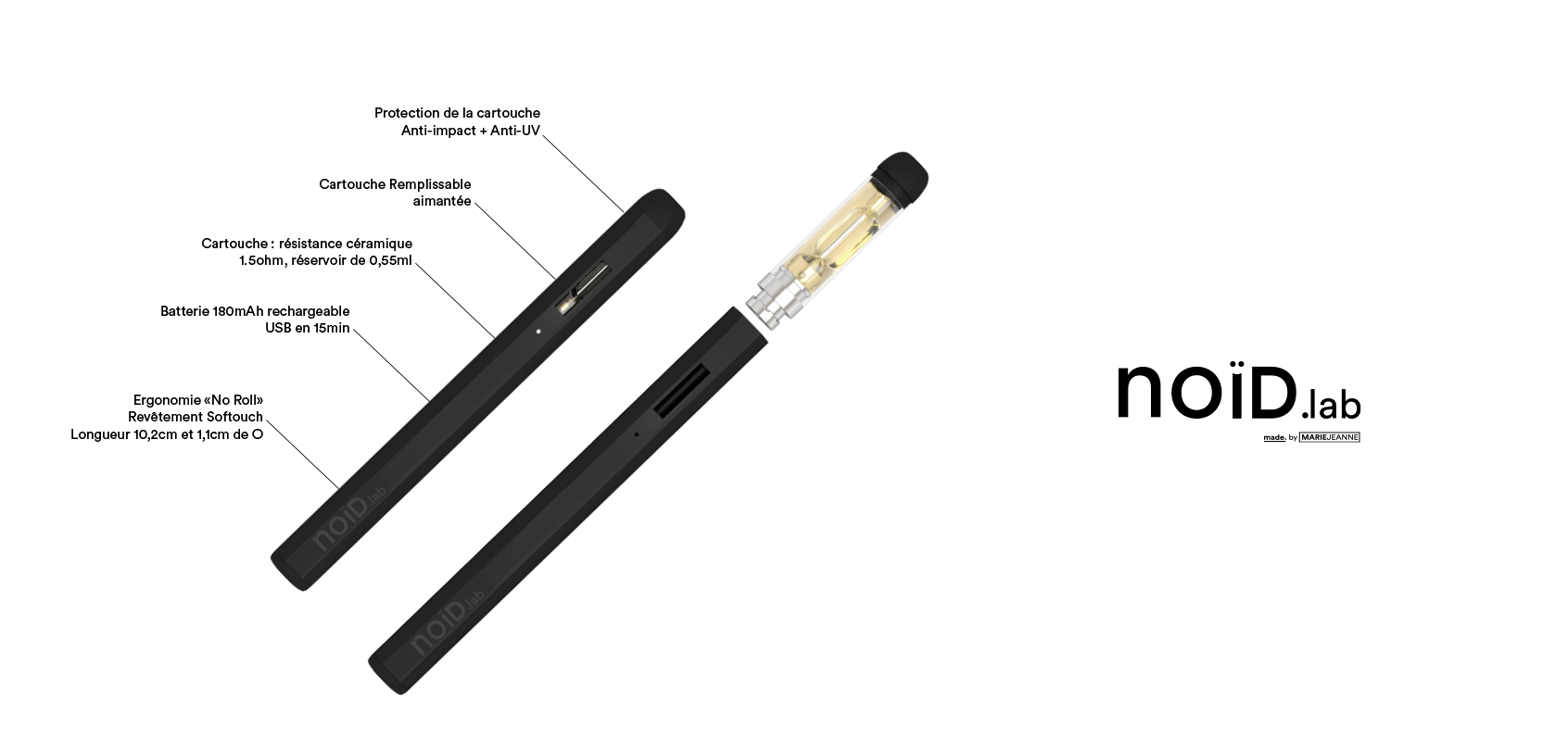 < /p>
Designed for a low wattage indirect inhale vape, this pod is perfectly suited for vaping CBD.
The pod cartridges are refillable and feature the latest 1.5ohm ceramic coil technology for a 0.55ml tank.
Simple battery charging with the USB cord in 15 minutes.
For good consumption, we advise you to change the cartridge approximately every 3 to 4 weeks in order to maintain the good flavors of the e-liquids (the resistance in the cartridges can burn out with force of use and the flavors will therefore be less pleasant).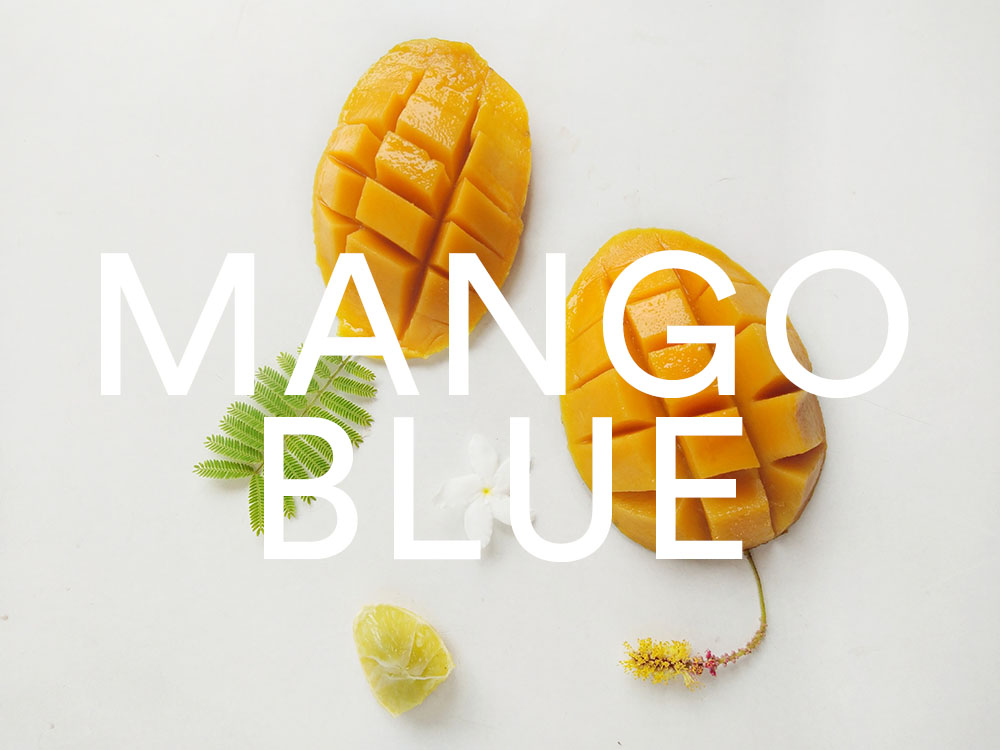 Supreme Mango, Mango and Blueberry E-liquid by Marie Jeanne
Marie Jeanne invites you to discover the Supreme Mango e-liquid with your vape pennoïd.lab. Let yourself be tempted by this CBD e-liquid Mango flavor with blueberry accent.
The Supreme Mango Blue is composed of different backgrounds, Mango aromas mixed with Blueberry which enhances this exceptional product. If you like the fruity vape, this liquid will suit you perfectly. Exotic and sunny!
Est-ce que l'on peut re-remplir la cartouche?
Oui, cette cartouche est une version vide et re-remplissable afin d'utiliser le vape pen noïd.lab avec vos e-liquides préférés (au cbd, neutre et/ou liquides nicotinés)
Comment se recharge le vapepen noïd.lab?
Le cable chargeur USB est fourni à l'interieur. Il est possible de le brancher sur n'importe quel type d'adaptateur USB.
Que Contient le PACK E-liquide + Vapepen ?
Ce pack cartridge est composé de:
1 Vape pen noïd.lab by Marie Jeanne
1 Eliquide 10ml CBD.
1 Batterie (dans le vape pen)
1 Câble USB pour la recharge
1 Manuel d'utilisation (FR)

Quand changer sa cartouche?
Pour une bonne consommation nous vous conseillons de faire le changement de cartouche toutes les 2 à 4 semaines environ afin de maintenir les bonnes saveurs des e-liquides (la résistance dans la cartouches peut griller à force d'utilisation et les saveurs seront donc moins agréables). si votre vape est vraiment intense les temps d'utilisation seront plus court, plus la cartouche chauffe plus son utilisation s'alterera rapidement.
Quelle est l'autonomie de la batterie en nombre de Puffs?
La Batterie se recharge à 100% en moins de 15 minutes sur port USB. Une charge de batterie à 100% tient en moyenne entre 200 et 250 puffs consécutives. Cela peut varier en fonction des intensités d'inspirations, les longueurs d'une puffs et la récurrence entre chaque puffs.
Politique de retour SAV ?
Le Vapepen (1 batterie + 1 cartouche resistance/reservoir) appelés aussi cigarettes électroniques "tout en un" bénéficient d'une garantie de 7 jours à partir de la date de réception suite à l'achat sur notre site internet.
Les batteries ont une durée de vie limitée laquelle dépend essentiellement des conditions d'utilisations (fréquence d'utilisation, chocs, défaut d'entretien, exposition à des températures extrêmes, contact avec l'eau, etc.).
La cartouche réservoir contenant la résistance du vapepen est un consommable, il est recommandé de la changer régulièrement en fonction de votre utilisation. Lorsque la résistance ne fonctionne plus (goût de brulé ou ne produit plus de vapeur) il est indispensable de la changer, cela ne fait pas partie de la garantie. 
En cas de défaut constaté durant la période de garantie commerciale, nous vous invitons à prendre contact avec le service après-vente via notre formulaire : Formulaire SAV.
Si un produit s'avère défaillant durant la période de la garantie commerciale, celui-ci devra être renvoyé et diagnostiqué au sein de nos ateliers. Si possible, celui-ci sera réparé et réexpédié. Si cette réparation demeure impossible, le produit sera remplacé par un modèle identique neuf.
Détails du produit
PG (%)

65

VG (%)

35

Type of cannabidiol

Full spectrum CBD

Manufacturing

French

THC

None

Diamètre (MM)

9
verified reviews(4)
Franck M. published the 14/12/2021 following an order made on 04/12/2021
Simple d'utilisation et discret