Moon Rock 60% CBD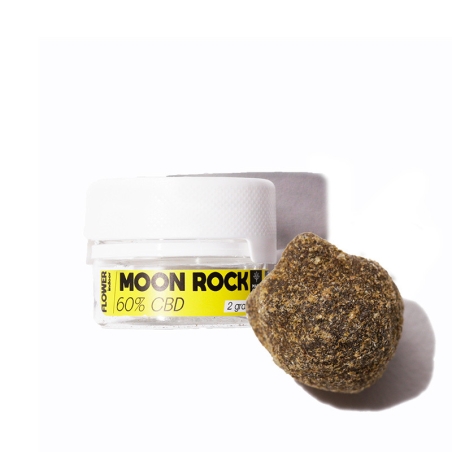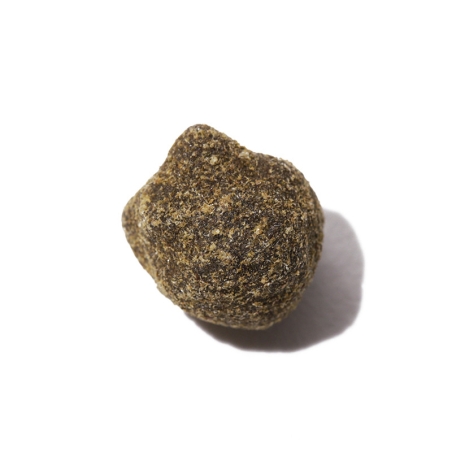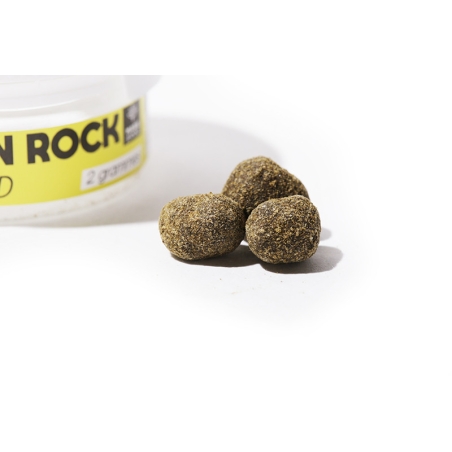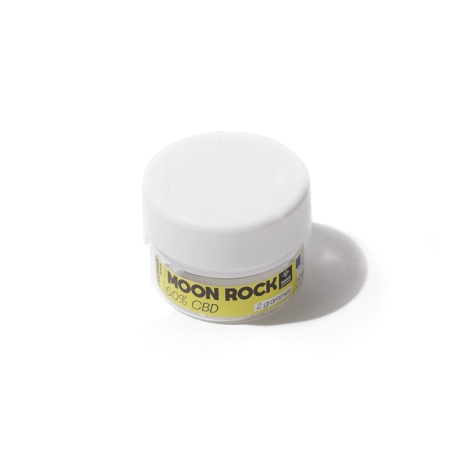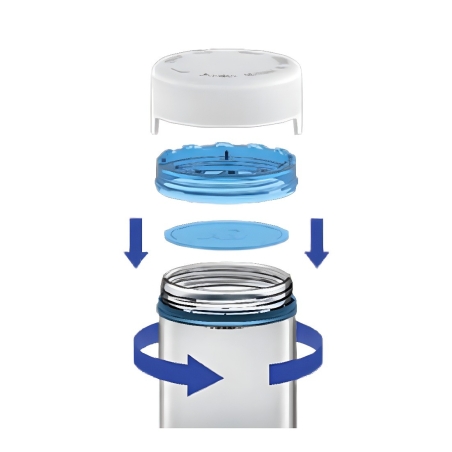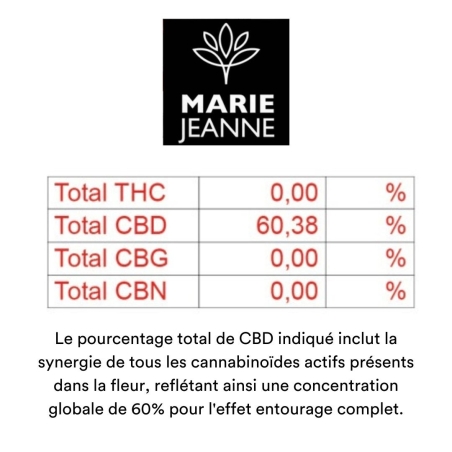 Legal THC
Made in France
Cannabis flavor
Delivery from Mardi 12 Décembre
Delivery from Mardi 12 Décembre

Delivery from Mercredi 13 Décembre
Secure payment
Anonymous packaging
24/48h delivery
Moon Rock CBD is a hybrid CBD flower. Moon Rocks CBD is made by coating the flowers with CBD oil and then rolling them in kief (trichome resin) to increase the cannabinoid content (60% CBD).
Our flowers CBD are sold in a completely airtight jar for better preservation throughout the ordering process.
Made In France
60% CBD 
100% naturel
<0,2% THC
Fast Shipping 
Parcel Tracking
Description
The CBD Moon Rock flower is far from a conventional flower. It is coated with oil and kief for a maximum concentration of cannabinoids, reaching 60% CBD! Marie Jeanne CBD ®'s Moon Rock CBD flower is therefore the choice for enthusiasts in search of a potent product.
Characteristics of Moon Rock CBD

Nicknamed the "moonstone," Moon Rock is like a UFO among CBD flowers! It is one of the most potent CBD flowers on the market. Moon Rock is classified among the famous cannabis caviars, the ultimate in hemp! Its secret: it is first wrapped in CBD oil, then rolled in kief.

Kief is the resinous material produced by the trichomes, the glandular hairs of hemp, which concentrate a large part of the cannabinoids. The result of this explosive cocktail: Moon Rock is extremely potent, even more so than other varieties like Amnesia CBD flower.

This lunar strain comes from the United States, where it appeared in 2014. It owes its name to its very round and dense appearance, like a moonstone.

Marie Jeanne CBD ®'s Moon Rock flower stands out for:

A round, very dense, and smooth appearance
A brown robe with touches of green and hay
A woody taste that lingers in the mouth, with a secondary floral aroma
A hard and resinous touch, due to the coating of oil and kief resin
A CBD rate of 60%
A THC rate below 0.2%
No addition of synthetic oils, 100% natural product
Indoor cultivation
Available in different weights: 2, 5, 10, 50, 100, 500, or 1,000 grams (1 kg)

The flavors of Moonrock, a unique taste

A high concentration of cannabinoids inevitably means a high concentration of terpenes, the natural aromas of cannabis. The Moon Rock CBD flower is therefore particularly potent in taste and offers a complete sensory experience, both olfactory and gustatory.

In the mouth, the body of the flavor is typical of hash, earthy, full-bodied, and woody, with notes of pine. These initial aromas, thanks to the concentration of terpenes, are particularly long-lasting in the mouth. This is followed by a second, lighter, more refreshing appreciation, with floral and slightly acidic notes.

Moon Rock is a particularly generous CBD flower in taste.
Methods for consuming the concentrated Moonrock CBD flower
The particularity of the Moon Rock CBD flower is that after being coated with oil and resin, it is particularly greasy. It is therefore strongly discouraged to crumble it in a grinder, which would result in condensing it into a sticky lump, losing some of the kief, and diminishing its qualities. However, it is particularly easy to crumble or "break" with your fingers or scissors. Once crumbled, you can use Marie Jeanne CBD ®'s Moonrock CBD flower in several ways:
In herbal tea, letting the infusion steep for 5 to 7 minutes
By ingestion, integrated into your salty or sweet food preparations
By vaporization, making sure to set the vaporizer between 180 and 210 °C
Quality guarantees of Marie Jeanne ® Indoor CBD flowers?
The Moonrock plant from Marie Jeanne CBD ® is grown indoors, which, unlike outdoor cultivation, allows control of parameters such as light and temperature, which greatly influence the quality of the flowers. It is then made up in an artisanal way, selecting the best of cannabis oil and kief. The flowers we sell have also been rigorously selected and have been chosen for their great qualities. They guarantee a controlled CBD (cannabidiol) rate of 60%. To protect this premium product, we carefully pack the flower in an airtight package, which will preserve it from moisture. Finally, Marie Jeanne CBD ® is a 100% made in France brand.
Our flowers and resins are sold in a sealed, unbreakable, airtight jar. The jar is reusable.
Purchase, delivery, and legal regulation
Opting for Marie Jeanne CBD ® means choosing a fully secure online shopping experience, up to the delivery, which is as careful as it is discreet. As products derived from hemp, all products sold by our online store are subject to French and European legal regulations. Thus, all our CBD-based products contain a THC rate below 0.2%.
The 50g, 100g, 500g, and 1kg products are not sold in jars but in vacuum bags.
Détails du produit
verified reviews(9)
Based on
9
customer reviews
Damien H.
5/5
published the 03/12/2023 following an order made on 25/11/2023
Je n'avais goûté cette variété, c'est bien sympathique.
Aloïs S.
5/5
published the 01/12/2023 following an order made on 24/11/2023
Très bien
Brandon O.
4/5
published the 24/10/2023 following an order made on 14/10/2023
Happy with the product good price would of liked if they weren't as hard a bit softer like moonrocks are but good overall
D. Marine
5/5
published the 11/08/2023 following an order made on 02/08/2023
La qualitée est au rendez-vous, effet relaxant immédiat.
U. Vivien
5/5
published the 30/07/2023 following an order made on 13/07/2023
Top! Livraison rapide et produit qui répond à mes attentes.
H. Enzo
5/5
published the 14/07/2023 following an order made on 29/06/2023
C'est mon coup de cœur, trop bon a fumer
D. Pénélope
5/5
published the 08/06/2023 following an order made on 30/05/2023
texture parfaite et les effets sont incroyables
B. Gilbert
5/5
published the 06/05/2023 following an order made on 30/04/2023
Étonné par l'efficacité de cette moon rock, très puissant :)
Michal D.
5/5
published the 27/04/2023 following an order made on 20/04/2023
Très relaxant je suis surpris