You must be 18 or over to acces this website
Sorry, you can not enter.
noïd.Lab Vape Pen solo
The Vape Pen _ Next Generation
The Vape Pen developed by Noïd.Lab is a revolution that focuses on the essentials: a redesigned look and simplified usage for an optimized vaping experience. Refillable empty cartridge included.
A complete Pod (One noïd.lab battery + One empty refillable cartridge)
1 USB Cable for charging
1 User Manual (FR)

Description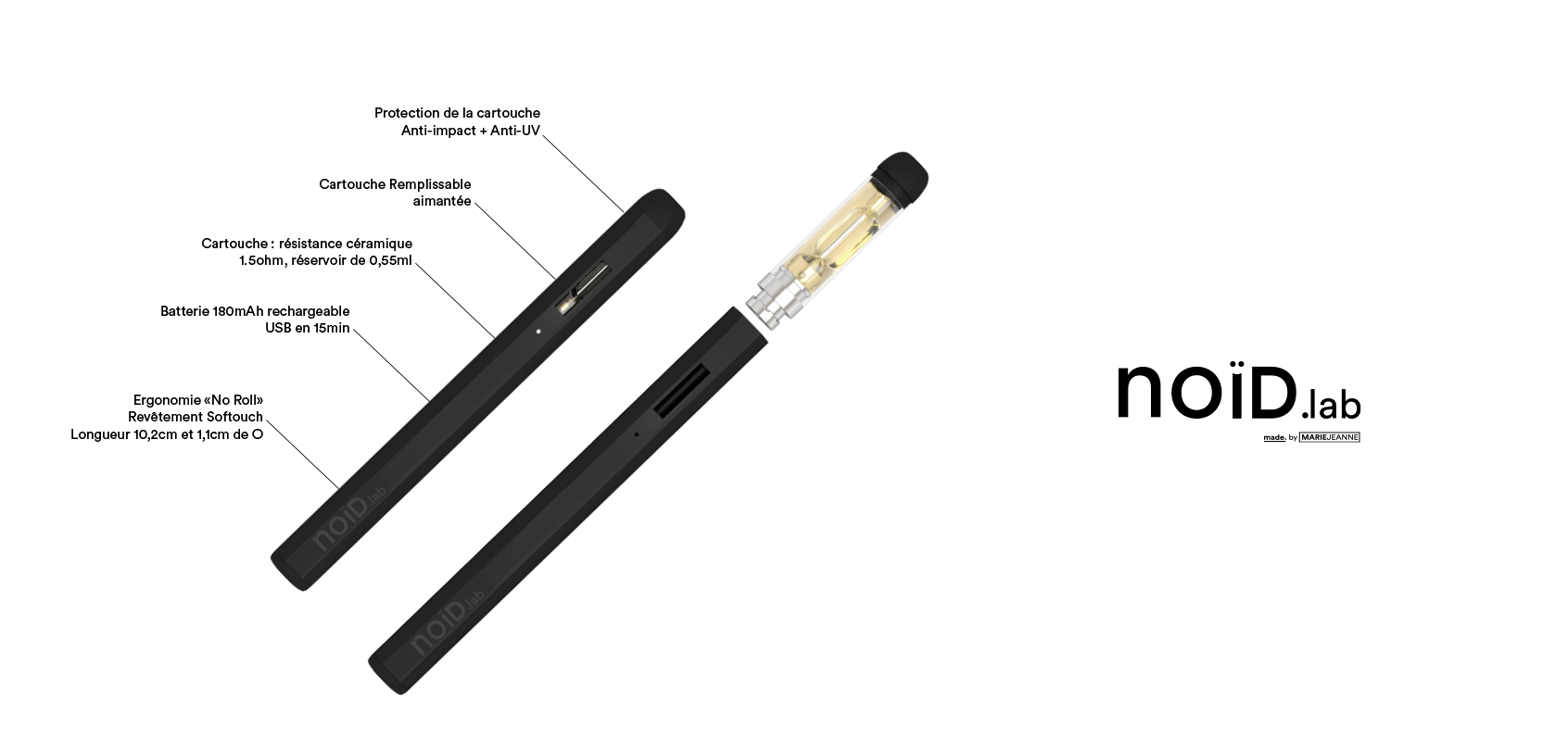 The Vape Pen _ New Generation
- Redesigned ergonomics with a "no roll" design. Rounded in hand but with slightly cut edges to prevent rolling. A soft-touch coating for a pleasant feel. Length 10.2 cm and 1.1 cm in diameter.
- 180 mAh battery rechargeable via USB port. Charging time 15 minutes.
- Magnetic cartridge without screwing, latest generation ceramic resistance of 1.5 ohm and capacity of 0.55 ml. Refillable for CBD e-liquid, nicotine e-liquid, nicotine salt, or neutral.
- Protective sleeve: The cartridge integrates into a protective sleeve to avoid UV contact and to prevent shocks to the cartridge.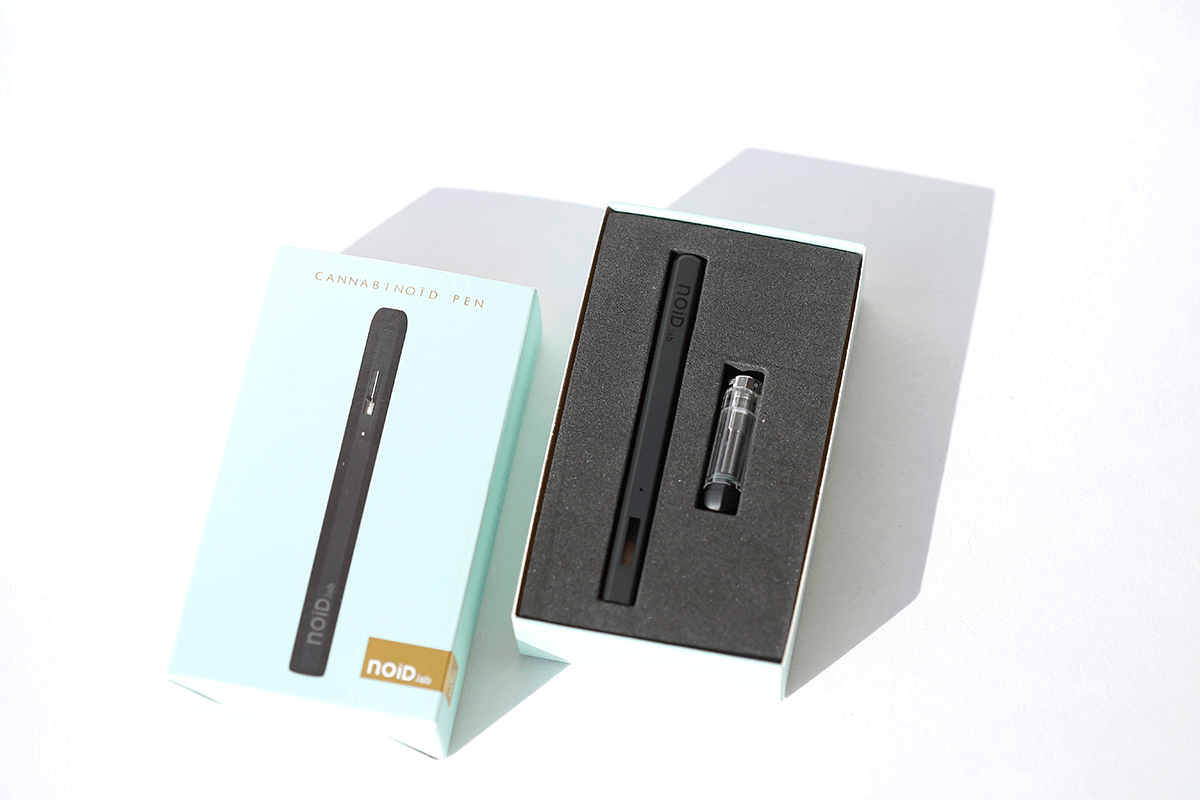 One Cartridge _ Multiple Flavors
The refillable Noïd.Lab cartridges have a capacity of 0.55 ml. The 1.5-ohm ceramic resistance is ideal for vaping CBD e-liquids (PG/VG + CBD) but also suitable for vaping other e-liquids (ideally liquids in 80 PG / 20 VG or 70 PG / 30 VG).
This pack contains an empty and refillable cartridge. It's up to you to fill it with an e-liquid from our range or your favorite brand.
The cartridge is magnetized into a sleeve: no more screwing problems, the cartridge magnetizes itself to the bottom of the sleeve. This avoids connection problems. The sleeve provides optimal protection against shocks and also prevents prolonged exposure to UV rays (e-liquids can deteriorate with prolonged exposure to UV rays).
Can the cartridge be refilled?
Yes, this cartridge is an empty and refillable version, allowing you to use the Noïd.Lab vape pen with your favorite e-liquids (CBD, neutral, and/or nicotine liquids).
How is the Noïd.Lab vape pen recharged?
The USB charging cable is included. It can be plugged into any type of USB adapter.
What does the SOLO Vape Pen PACK contain?
This cartridge pack consists of:
1 Noïd.Lab Vape Pen by Marie Jeanne
1 Marie Jeanne Cartridge 0.55ml to fill.
1 Battery (inside the vape pen)
1 USB Cable for charging
1 User Manual (EN)

When to change the cartridge?
For optimal consumption, we recommend changing the cartridge every 2 to 4 weeks to maintain good e-liquid flavors (the resistance in the cartridge can burn out with prolonged use, making the flavors less enjoyable). If your vaping is really intense, the usage time will be shorter; the more the cartridge heats up, the faster its performance will deteriorate.
The Vape Pen (1 battery + 1 resistance/reservoir cartridge), also known as "all-in-one" electronic cigarettes, come with a 7-day warranty from the date of receipt following the purchase on our website.
Batteries have a limited lifespan, which largely depends on usage conditions (frequency of use, shocks, lack of maintenance, exposure to extreme temperatures, contact with water, etc.).
The reservoir cartridge containing the vape pen's resistance is a consumable; it is recommended to change it regularly based on your usage. When the resistance no longer works (burnt taste or no vapor production), it must be replaced; this is not covered by the warranty. You can find the Vape Pen cartridges here.
If a defect is found during the commercial warranty period, we invite you to contact customer service via our form: SAV Form.
If a product proves to be faulty during the commercial warranty period, it must be returned and diagnosed in our workshops. If possible, it will be repaired and reshipped. If repair is not possible, the product will be replaced with a new identical model.
verified reviews(19)
Virginie A. published the 10/09/2023 following an order made on 01/09/2023
Léger et efficace.. Un chouette petit produit.
Romain L. published the 30/08/2023 following an order made on 19/08/2023
Tres bien
Moise L. published the 13/08/2023 following an order made on 07/08/2023
Bon tirage, bonne prise en main. Seul bémol le produit remonte pendant le tirage pas agréable, et remplissage un peut laborieux pour ma part. Pour le reste RAS
Alizée H. published the 10/06/2023 following an order made on 25/05/2023
Taille d'un stylo, discrète, pratique et bonne autonomie. vraiment satisfaite de mon achat pour pouvoir vape du CBD dans toutes circonstances
Antoine Q. published the 01/05/2023 following an order made on 25/04/2023
Comme dis au dessus sav au top
Pascal M. published the 16/04/2023 following an order made on 08/04/2023
Parfait
Mantas S. published the 20/03/2023 following an order made on 08/03/2023
Works great, no complaints
Virginie B. published the 11/03/2023 following an order made on 04/03/2023
fonctionne bien, discret.
Sandrine B. published the 10/03/2023 following an order made on 28/02/2023
Je recommande pour vapoter du liquide CDB. Le design et la prise en main est bien pensé. Il faut la recharger souvent car elle est petite.
Matthieu L. published the 23/02/2023 following an order made on 16/02/2023
Petit et pratique