OG Kush - CBD Flower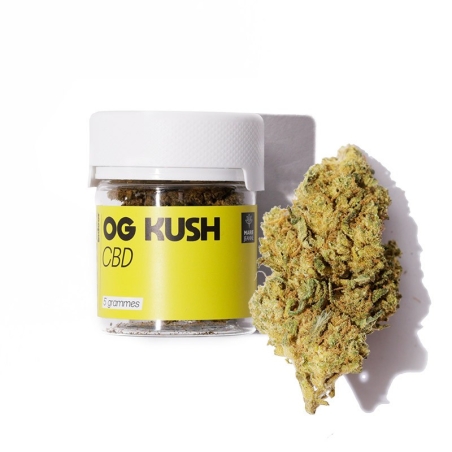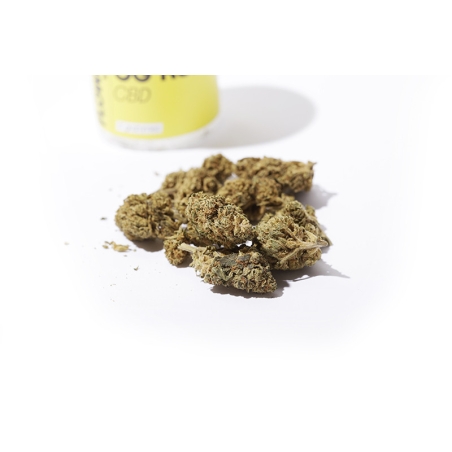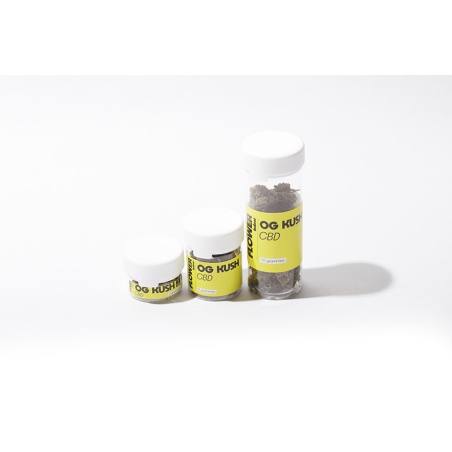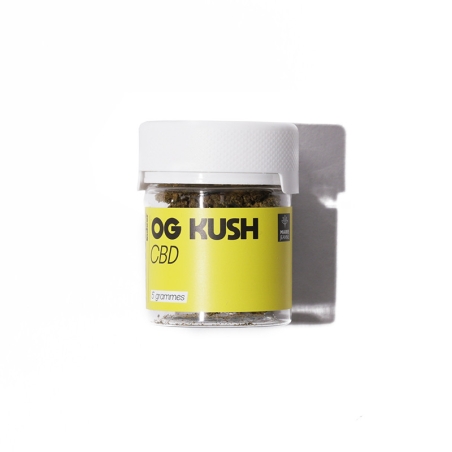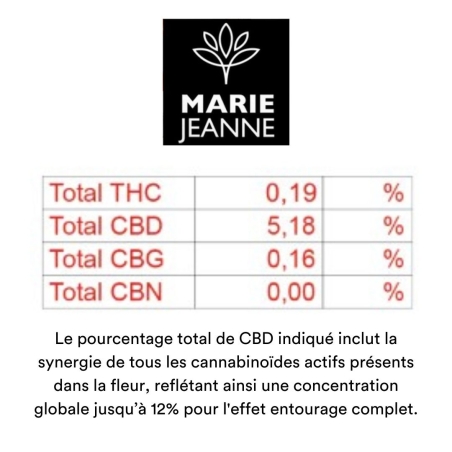 Legal THC
Made in France
Cannabis flavor
Delivery from Mardi 12 Décembre
Delivery from Mardi 12 Décembre

Delivery from Mercredi 13 Décembre
Secure payment
Anonymous packaging
24/48h delivery
OG KUSH is a hybrid CBD flower. OG KUSH flowers have compact, dense and resinous buds with aromas of wood and spice, and a strong, long-lasting flavor with hints of lemon and earth.
Our CBD flowers are sold in a completely airtight jar for better preservation throughout the ordering process.
Made In France
6-12% CBD 
100% naturel
<0,2% THC
Fast Shipping 
Parcel Tracking
Description
Straight from the West Coast, OG Kush has quickly established itself as one of the best American cannabis strains. It owes its exceptional qualities to multiple hybridizations, tracing back to Afghan cannabis strains. It is now available as a CBD flower, with the French quality of Marie Jeanne CBD ®.
Characteristics of the OG Kush Hemp Flower

Without a doubt, OG Kush is one of the finest strains that California has given us, responsible for many interesting cultivars like the Moon Rock. Even today, the name OG Kush raises questions. While "Kush" refers to the mountains that run through Afghanistan, reminding us of the origins of this exceptional cannabis, the "OG" part remains an unsolved mystery to this day.

This strain, born in the 1990s, is the result of expert horticultural selection. It comes from the union of the Chem Dawg and Hindu Kush strains.

The CBD flowers (cannabidiol, one of the cannabinoids) OG Kush from Marie Jeanne CBD ® are characterized by:

Deep, woody, and roasted aromas, with refreshing notes of citrus and pine
A greasy texture, rich in resin
A dense and compact bud
A tangy green color with orange hues
A CBD content of 6 to 12%
A THC content below 0.2%
Contains CBG
Indoor cultivation
Available in several weights: 2, 5, 10, 50, 100, 500, or 1,000 grams (1 kg)

The Flavors of Kush, a Legendary Experience!

The CBD flowers of OG Kush are rich in terpenes: the natural aromas that give hemp its olfactory richness. Its strong flavors are quite woody and earthy, slightly spicy. They remind one of the smell of pine. Secondary tastes are more refreshing, reminiscent of citrus, particularly the acidity of lemon.
Methods for Consuming CBD Flower
CBD flowers are a versatile product that can be consumed in various ways:
As an infusion, like tea, using a tea ball. Allow the infusion to steep for 5 to 10 minutes; preheating in milk to enhance the infusion is recommended;
By vaporization, between 180 and 210 °C. For this, insert a chopped fragment of the Amnesia flower directly into the device's chamber and tamp lightly;
By ingestion, for example by incorporating the flower into a recipe like a space cake, cannabis butter, or cooking oil.
Quality Guarantees of Marie Jeanne ® Indoor CBD Flowers?
Marie Jeanne CBD ® ensures the rigorous selection of plants. Therefore, OG Kush CBD flowers have not undergone any further hybridization, which could have altered the exceptional qualities of this premium variety. The plants are grown indoors, which, unlike outdoor cultivation, allows for perfect control of cultivation parameters such as light and temperature. Moreover, opting for Marie Jeanne CBD ® means choosing Made in France quality!
Our flowers and resins are sold in a sealed, unbreakable, airtight jar. The jar is reusable.
Purchase, Delivery, and Legal Regulation
The shopping experience offered by Marie Jeanne CBD ® is fully secure and provides discreet delivery of your products. Each product sold in our store complies with the current legal regulations regarding CBD, and therefore, has a THC content below 0.2%.
The 50g, 100g, 500g, and 1kg products are not sold in jars but in vacuum-sealed bags.
Détails du produit
verified reviews(6)
Based on
6
customer reviews
Fred G.
5/5
published the 18/11/2023 following an order made on 14/11/2023
Fleur aux effets très puissants !
Albert L.
5/5
published the 24/10/2023 following an order made on 19/10/2023
Ça m'a envoyé dans la west coast direct, je kiff
B. Henri
5/5
published the 03/09/2023 following an order made on 22/08/2023
Service client au top, produit conforme à mes attentes
B. Alexandria
5/5
published the 19/07/2023 following an order made on 20/06/2023
Je recomande ces fleur, très bon gout et détente assurée.
R. Alexandra
5/5
published the 11/03/2023 following an order made on 09/03/2023
J'ai essayé plusieurs fleurs de CBD, mais celle-ci est de loin la meilleure : Saveur, effet, tout y est !
K. Odette
5/5
published the 13/02/2023 following an order made on 09/02/2023
J'ai essayé plusieurs marques, mais celle-ci est de loin la meilleure. 5 étoiles.