copy of Sunrise e-liquid
Ce produit n'a pas encore d'avis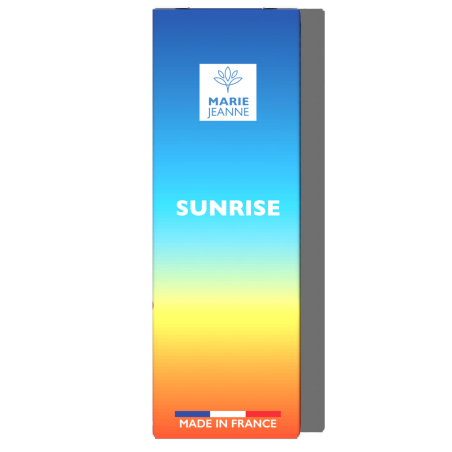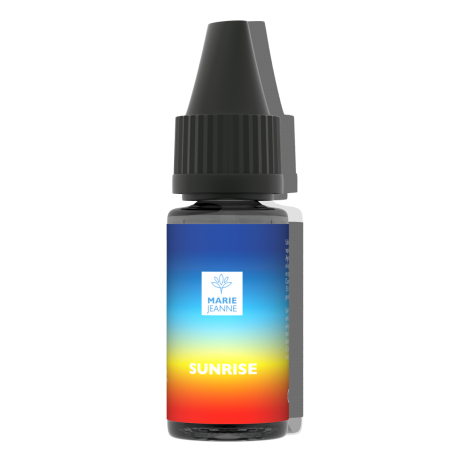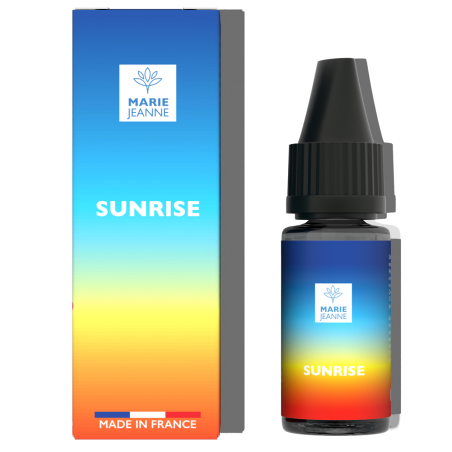 Plant-based PG/VG
Cannabis flavor
THC free
Fruits flavor
Delivery from Mardi 12 Décembre
Delivery from Mardi 12 Décembre

Delivery from Mercredi 13 Décembre
Secure payment
Anonymous packaging
24/48h delivery
Discover Sunrise by Marie Jeanne: an enchanting combination of watermelon (sweet and juicy), pineapple (fresh and tangy) and peach (as mellow in the mouth as it is tasty). A CBD e-liquid available in doses of 0, 50, 100, 300 and 600 mg, with a PG:VG ratio of 80:20, ideal for CBD.
Description
Sunrise: the fruit cocktail that will really juice you up!
When daybreak comes around, be captivated by Sunrise and imagine the soft light of the sun rising up over a tropical ocean. With its delicious summer fruit flavours, Sunrise will have you basking on a sun-bathed beach.
This delightful cocktail of melon, pineapple and peach will fill you with energy and good vibes, as though it's the start of your summer holiday.
A unique bottle available in various doses
The Marie Jeanne Sunrise CBD e-liquid comes in a 10 ml bottle with a childproof lid. It stands out thanks to its colourful bottle, with a gradient colour motif to reflect the light created by the sunrise.
According to your vaping habits, you can choose your Sunrise e-liquid in the CBD concentration that suits you: 50, 100, 300 or 600 mg per 10 ml bottle.
Certified THC-free
Marie Jeanne creates CBD e-liquids that comply with current French regulations. The THC content in our vape e-liquids is negligible. The CBD we use comes from hemp plants authorised to be grown in Europe.
The fruit flavouring is combined with CBD then diluted in an e-liquid preparation made up of 80% PG (propylene glycol) and 20% VG (vegetable glycerin). Unique aromas and a top-of-the-range production process make Marie Jeanne products a hit among vapers looking for a flavourful vape experience. Inspired by sweet flavours, Sunrise by Marie Jeanne is a real delight for the nose and the taste buds.
Détails du produit
| | |
| --- | --- |
| PG (%) | 80 |
| VG (%) | 20 |
| Type of cannabidiol | CBD crystals |
| Type of flavour | Food grade |
| Capacity (ml) | 10 |
| Flavour | Fruity |
| Type of bottle | Cardboard box |
| Collection | Création |
| Recommended equipment | Battery settings below 20 W |
| Manufacturing | French |
| THC | None |
| Best before | Best before date: See bottle (min. 12 months) |
| Language on packaging | Spanish |