copy of Malana e-liquid
Ce produit n'a pas encore d'avis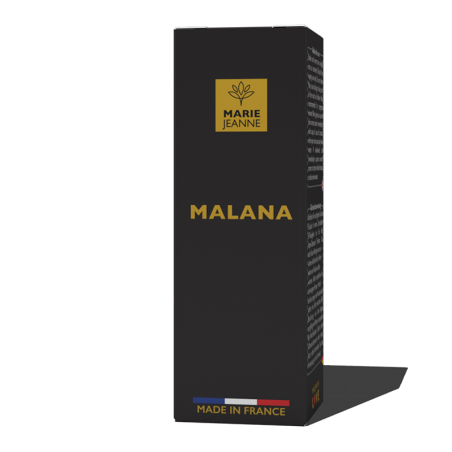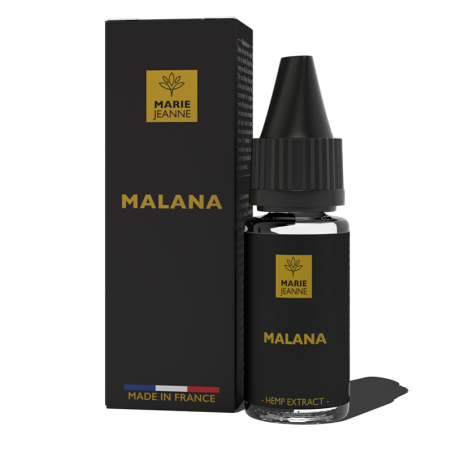 Plant-based PG/VG
Legal THC
THC free
Fruits flavor
Delivery from Mardi 12 Décembre
Delivery from Mardi 12 Décembre

Delivery from Mercredi 13 Décembre
Secure payment
Anonymous packaging
24/48h delivery
Discover our Malana full spectrum CBD e-liquid: an exceptional e-liquid packaged in an elegant, captivating Black Edition bottle. Fall in love with this unique vape experience, with a remarkable hit and authentic flavours. Thanks to a unique method of extracting cannabinoids that are naturally present in hemp plants, Marie Jeanne offers you the opportunity to rediscover the rich taste of hemp.
Aromatic profile: Resinous hemp
Description
Malana, the original hemp flavour
Fans of full spectrum e-liquids will fall in love with Malana. This premium cannabidiol e-liquid is made through a new, innovative extraction process that preserves all the cannabinoids in their rawest, most natural form. With every drag, you will experience the unique flavour of hemp.
The elegance of a 'Black Edition' bottle
A lot of research went into making this elixir. Malana is available in various CBD concentrations: 100 mg, 300 mg, or 500 mg per 10 ml bottle. It comes in Black Edition packaging, an enhanced version of Marie Jeanne's usual stylish e-liquid presentation.
Malana, a certified THC-free e-liquid
Marie Jeanne has built up a reputation for top-of-the-range vaping solutions. With this full spectrum e-liquid, you are guaranteed a unique vape experience that combines natural flavours and a powerful hit on the throat, and all without THC.
Détails du produit
| | |
| --- | --- |
| PG (%) | 50 |
| VG (%) | 50 |
| Type of cannabidiol | Full spectrum CBD |
| Type of flavour | Terpenes |
| Capacity (ml) | 10 |
| Flavour | Hemp |
| Type of bottle | Cardboard box |
| Collection | Authentique |
| Recommended equipment | Battery settings below 20 W |
| Manufacturing | French |
| THC | None |
| Best before | Best before date: See bottle (min. 12 months) |
| Language on packaging | Spanish, English |