You must be 18 or over to acces this website
Sorry, you can not enter.
Penny Cocktail 6% - 300 puffs Vapepen
Taste: Cocktail aromas
CBD 6% - Equivalent 600mg / 10ml
The Penny is a ready-to-use, disposable CBD vapepen. No loading required, no CBD e-liquid refill, just vape.
The cocktail flavor is a taste of summer fruits, from the first puff these flavors of summer melon, fresh and tangy pineapple and vine peaches will take you closer to nature, for 300 puffs ( the equivalent of 25 cigarettes )!
Its CBD content of 6%, equivalent to a 600mg for 10ml, allows an interesting hit in the mouth and effects in line with our CBD.
The Penny is easy to use, it can quickly become your travel companion that follows you everywhere, but it will be just as happy on your bedside table or your coffee table!
Description
Perfect for curious people wanting to discover the CBD vape but also for experienced users looking for a daily and easy to use vapepen.
The Penny is a ready-to-use 300 puff (25 cigarette) vapepen containing 6% CBD. No button, no filling, no manipulation to do, the Penny can be used directly after opening. Its battery has been designed to be used on more or less 300 puffs so that the Penny can deliver all the CBD contained in its reservoir to you.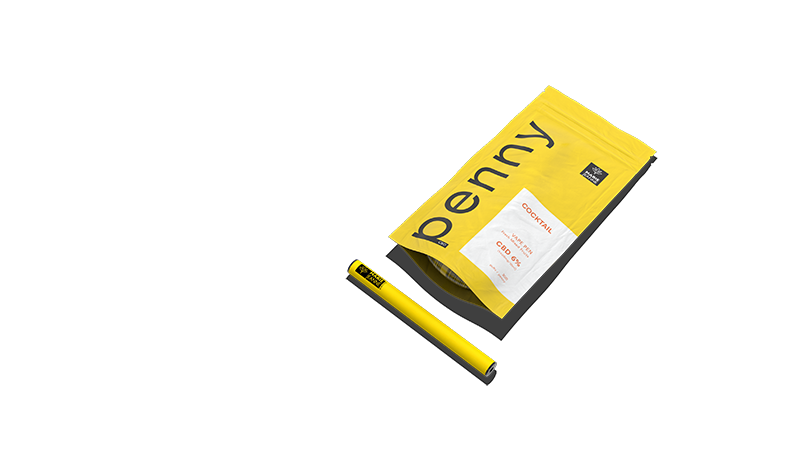 How to use Penny CBD? How to keep it and manage its use? :
The Penny can be used several times, which is why it is protected at the end by a cap to keep the product and the e-liquid as long as possible. The packaging has also been designed to be reusable, a tight seal has been put in place on the top of the bag to optimize the storage of your Penny.
When should I use my Penny to optimize its effects?
The best time to consume your penny will be when you take the time to appreciate our cocktail taste and the different tastes we offer you. The effects of CBD are always more powerful during your quiet times, take the opportunity to imagine yourself on a beach sipping a good cocktail!
What is the capacity and content of a Penny?
It contains 300 puffs, which is equivalent to about 25 cigarettes. The Penny is equivalent to a 700mg (7%) e-liquid in a 10ml bottle.
Ergonomics and design of the Penny CBD:
We have chosen to develop a device that is small, efficient and easy to use. With the size of a cigarette. The Softtouch material is very pleasant to the touch and its handling is quick and easy. it doesn't slip between your fingers.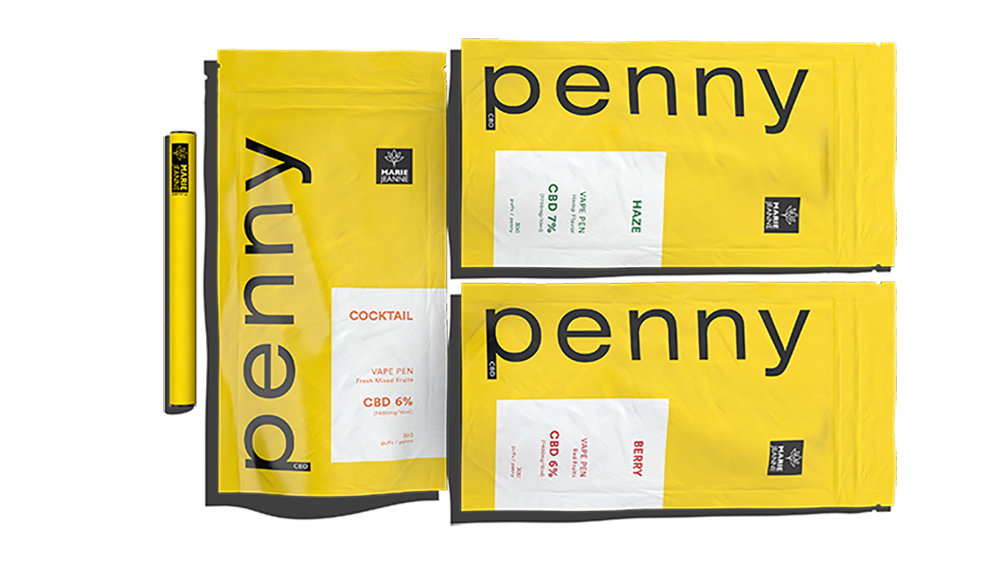 Is the Penny refillable and refillable?
No, the penny is for single use. After your use it is advisable to throw it in specific bins so as not to pollute.
Where to throw my Penny ecologically?
Once finished, to avoid polluting, you can throw your penny in specialized bins for batteries for example or in electronic waste bins. This type of bin is normally found in any store that sells batteries.
How much tastes like for Penny?
There are 3 flavors, the Haze taste, the Berries taste and the Cocktail taste.
Penny Haze
Floral hemp taste

Penny Berry
Taste Red Fruits

Penny Cocktail
Taste Fresh Cocktails
Are there packs to buy multiple Pennies?
Yes, our packs are available with 1, 3 or 5 Penny, the quantity is up to you when purchasing.
verified reviews(2)
Gaetane I. published the 11/05/2021 following an order made on 04/05/2021
Bon rapport qualité / prix pour découvrir le cbd
Stéphanie C. published the 29/04/2021 following an order made on 21/04/2021
Agréablement surprise par la saveur, et je trouve très pratique ce petit penny.