You must be 18 or over to acces this website
Sorry, you can not enter.
Penny Haze 7% - 300 puffs Vapepen
Taste: Hemp Terpenes
CBD 7% - Equivalent 700mg / 10ml
The Penny is a ready-to-use, disposable CBD vapepen. No loading required, no CBD e-liquid refill, just use it.
The HAZE flavor is our most successful hemp taste, from the first puff this floral and green taste in the mouth will bring you back closer to nature for 300 puffs (the equivalent of 25 cigarettes)!
Its CBD content of 7%, equivalent to a 700mg per 10ml, allows an interesting hit in the mouth and effects in line with our CBD.
The Penny is easy to use, it can quickly become your travel companion that follows you everywhere, but it will be just as happy on your bedside table or your coffee table!
Description
Perfect for curious people wanting to discover the CBD vape but also for experienced users looking for a daily vapepen and goes everywhere.
The Penny is a ready-to-use 300 puff (25 cigarette) vapepen containing 7% CBD. No button, no filling, the Penny can be used immediately. Its battery has been designed to be used on more or less 300 puffs so that the Penny can deliver all the CBD contained in its reservoir.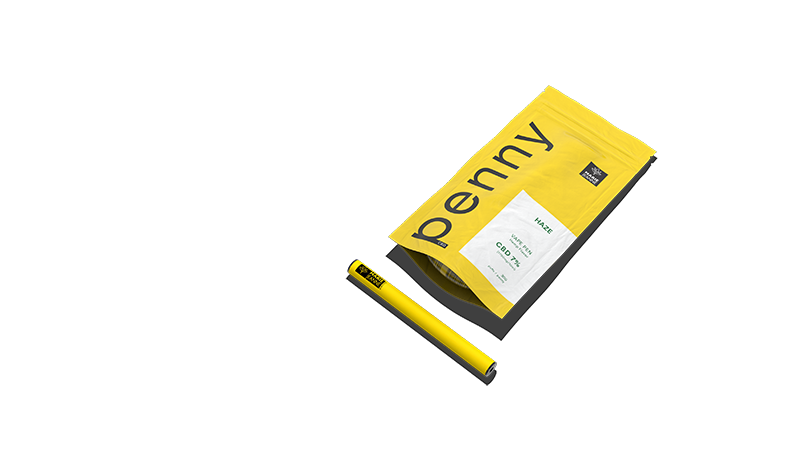 How to use Penny CBD? How to keep it and manage its use? :
The Penny can be used several times, which is why it is protected by an anti-drying tip to keep the e-liquid and the product as long as possible. The packaging has also been designed to be reusable, a waterproof seal has been put in place on the top of the bag to optimize the storage of your Penny.
When should I use my Penny to optimize its effects? :
The best time to consume our penny will be a moment of relaxation, where you will take the time to appreciate the fruit of our creations and the different tastes that we offer you. Therefore, the effects of CBD will be more effective than if you consume the product intensively throughout your day.
What is the capacity and content of a Penny?
300 puffs, which is equivalent to about 25 cigarettes. The Penny is equivalent to e-liquid of 700mg (7%) / 10ml.
Ergonomics and design of the Penny CBD:
We have chosen to develop a device that is small and easy to use. With the size of a cigarette. The Softtouch material makes it feel very pleasant and easy to handle. it does not slip.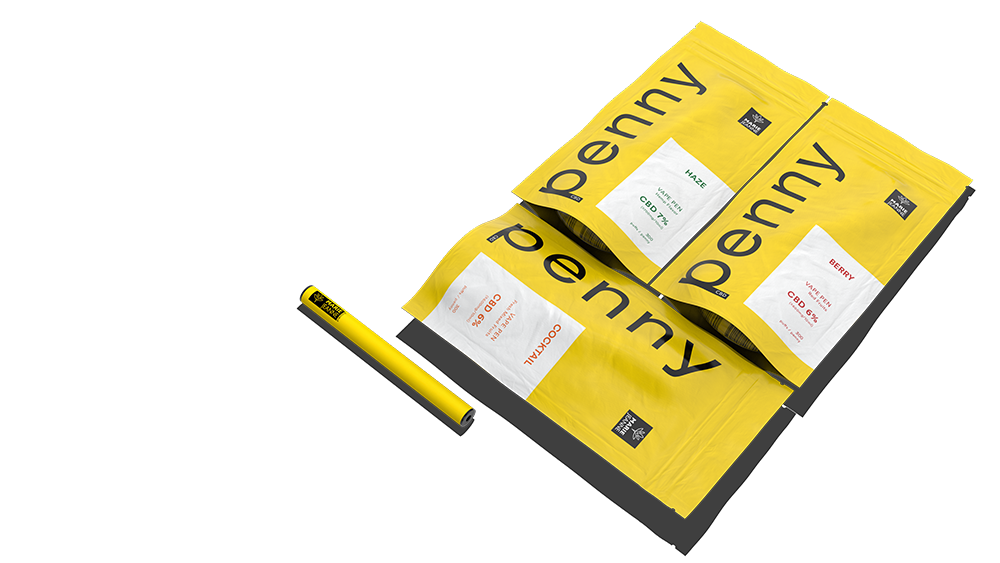 Is the Penny refillable and refillable?
No, the penny is for single use. After your use, you are advised to throw it away in specific bins.
Where to throw my Penny ecologically?
Once finished, to avoid polluting, you can throw your penny in specialized bins for batteries for example or in electronic waste bins. These bins can be found in all stores that sell batteries.
How much tastes like for Penny?
There are 3 flavors, the Haze taste, the Berries taste and the Cocktail taste.
Penny Haze
Floral hemp taste

You are on their product page

Penny Berry
Taste Red Fruits

Penny Cocktail
Taste Fresh Mango Cocktails
Are there packs to buy multiple Pennies?
Yes, The available packs are 1, 3 or 5 Penny packs, the quantity is up to you when purchasing.
verified reviews(6)
Fabien J. published the 12/07/2021 following an order made on 02/07/2021
Un goût agréable,chatouille un peu la gorge
Jason H. published the 26/05/2021 following an order made on 17/05/2021
Goût au top, en tant qu'ancien fumeur ça m'a rappelé quelques souvenirs. Niveau effets, les 3 jours que le Penny a duré, je n'ai pas eu une seule migraine et je n'ai pas eu à prendre de médicaments pour. Dès que je sentais la migraine arriver, j'avais juste à tirer quelques fois sur le Penny. Rien à redire, pour une première expérience je recommande fortement, je risque de commander à nouveau !
Jean M. published the 21/05/2021 following an order made on 13/05/2021
Je vais essayer un autre parfum, celui-ci est trop acre Ca pique la gorge davantage qu'une cigarette ! Bizarre
Gaetane I. published the 11/05/2021 following an order made on 04/05/2021
Bon rapport qualité / prix pour découvrir le cbd
Mickaël D. published the 06/05/2021 following an order made on 28/04/2021
Très agréable
Elise F. published the 05/05/2021 following an order made on 27/04/2021
Super jolie objet en lui même ! Idéal pour tester. Très agréable au goût. Peut-être un peu plus de fumé serait souhaitables.